$1000 Reward for Finding 800 Pound Hammer
At Healdsburg's community center, an 800 pound hammer was stolen.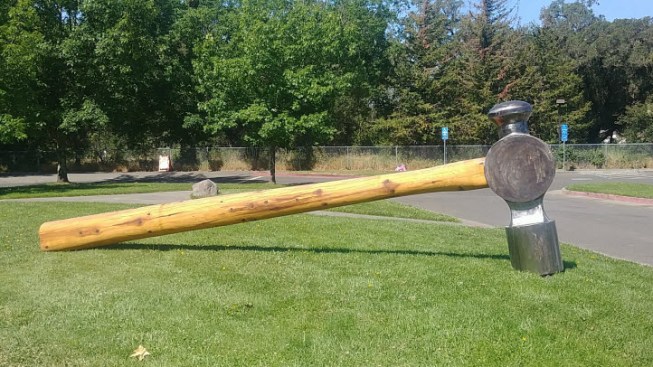 Healdsburg police learned about the missing hammer on Saturday, October 6. Initially, they checked to see if it had gotten moved to a different location at the community center because the hammer wasn't a permanent piece. Doug Unkrey, the creator of the piece explained, "They'd need at least a flatbed trailer with a winch, or about eight people". The hammer is so big, it couldn't have been done by a couple people alone. Unkrey also said, ""Why would you take this thing?" It's unusual someone would take an 800 pound hammer, especially because they most likely have nowhere to put it. Unkrey made the hammer with part of a redwood tree for the handle and metal  So far, the police working the case have no leads. They've checked surveillance cameras and have checked if it was a group of high school teens messing around. The  The artwork is uninsured, and it's worth about $15,000. A $1,000 reward is offered for the recovery of the hammer. The hammer was a cool sight for visitors at the Healdsburg community center and many people stopped to take pictures.
Source: https://www.pressdemocrat.com/news/8824675-181/800-pound-hammer-stolen-from-healdsburgs?artslide=2&sba=AAS